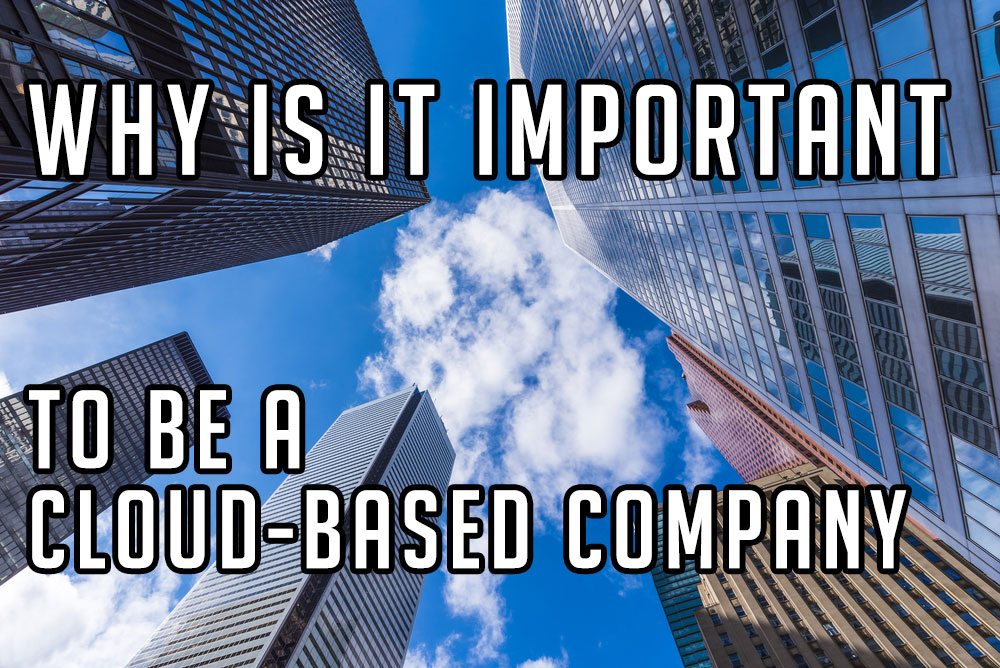 Has your company made the switch to cloud-based or are you still relying on everything being stored and accessed from your office location?
If you're still operating solely from your office, you're playing a dangerous game of roulette with the success and future of your business.
Why is it Important for Your Company To Be Cloud-Based?
Today's modern businesses are cutting all the wires and reaching for more cost-effective measures and efficient ways to manage their day – to – day activities and business processes. Outsourcing parts of your business process is an efficient way to manage your business and to also provide premium service to your customers. The emergence of cloud-based alternatives is gradually shifting the pendulum as more and more business are subscribing to this modern and more functional method of running a business. Research has shown that 85% of new businesses are operated on a multilevel cloud platform in 2017.
There are many profitable reasons to shift to a cloud-based model and in this blog, we're going to be examining some of the far-reaching benefits for companies transitioning to the cloud.
The benefits of the cloud base model for a company is a long and extraordinary list, especially for you a business owner.
1. Effective Operational Model
At first, a shift to a cloud base model may seem difficult and a little challenging more because of limited knowledge on how to use and apply the new model but in the long run, there will fewer complications and maintenance issues with infrastructure. Downtime is reduced and you are able to manage teams better and focus on your core business.
A Cloud base model utilizes a server structure that is independently managed for a small fee by a third party whose sole business is to maintain uptime of the server and this makes this model more ideal for small companies and startups who are looking to compete on a global level for a budget.
2. Budget Friendly
One of the best reasons to go cloud-based is that it saves you a ton of money in the long run. The cloud structure is one that is scalable to any organization. It can serve effectively for small businesses just as it can for large corporations.
With cloud-based systems, the initial setup cost of a business is greatly reduced. There is no need to invest in large infrastructure that may require expensive upgrades or a change should the results not turn out in the way you have envisioned.
New technologies are implemented and upgrades conducted without your active participation as a business owner.
3. Highly Scalable
The cloud model is a highly scalable model, perfect for startups and businesses looking to expand. No matter the outcome, you can structure your business to suit the prevailing circumstances, whether it is scaling up or scaling down, you can make it happen in record time and without loss of service to customers.
4. Collaboration
Collaboration is at its optimum with cloud-based companies. Team members and leaders are able to meet, share and collaborate on jobs without being in the same location. Meetings can be set up and conducted across the network and team leads can monitor progress from their remote location.
Being cloud-based means that you and your team can be in sync at all times for the benefit of the business and the ultimate satisfaction of your customer.
5. 100% Uptime
With the cloud, companies are never closed. They are able to offer 24-hour service to customers without a large investment in infrastructures and staff and a team able to work and collaborate at any time of the day.
Staff members can complete assignments from anywhere without the burden of large files or bulky setups.
6. Better Employee work-life balance
Business Owners and employees are able to live the life that they truly want. Going cloud-based makes the job a lifestyle, making it easier for employees to function even when they are out of the office, on family vacations or at an afternoon lunch.
Taking into consideration the collaborative feature of the cloud and the function that allows for 100% uptime, employees can leverage this feature to combine daily life activities with the job and still function at their best while maintaining a stable work-life balance.
7. Better Security and Control
It is worthy of note that a lot of companies have been victims of cyber breaches and hacking. They are unable to implement full security due to the enormous cost factor. With the cloud, the aspect of security is managed and maintained by the service providers and in almost all cases, they have far more means and ability to accomplish this task than new companies do.
Control is also a function that is easily achieved with the cloud. Your companies information is safe and only available on a need to know basis. The cloud model ensures that there is no counteracting as strict control is employed as well as a strong audit trail of all activities, making easy detection of infractions.
8. Good for the Environment
Cloud-based systems ensure that more companies are able to share resources and this means that more people are able to discard their large power consuming infrastructure and shift to a more efficiently shared resource. The environment is benefitted from less pollution and emissions as power consumption and the need for work-commuting traffic is reduced.
With the cloud-based model, resources are saved and put to better use just as the opportunity to pool resources together allows for better utilization and greater value for you the business person and the environment that suffers from our actions.
9. Easy Adoption and Implementation
For companies looking to transition to the cloud, it is as easy as turning on your computer and working. The platform allows for easy quick steps for implementation and the cost factor is broken down into a periodic subscription that allows for easy implementation and integration. Training is available for staff, just as there is 24/7 technical support for clients to reach the managers of the platform should the need arise.
10. More Reliable
In my opinion, reliability and the cost factor are the two best options posed by the cloud model. Saying that operating on a cloud makes your business more efficient is an understatement of the true power and effect this cloud model will have on your business.
Reliability is sure with the cloud model and as more companies look to transition to the cloud, it is worthy to note that the best years of your business awaits you. The advantages of the cloud model far out weights any disadvantage that it may have.
Shifting to a cloud-based model opens your company up to many different benefits and allows you to keep up with the business regardless of where you are or what happens to your physical office location.
If you have any questions about making the step to a cloud-based company, please don't hesitate to contact me. We have developed our software platform as a cloud-based service for a reason and if I can help you, I would love to share my knowledge with you.