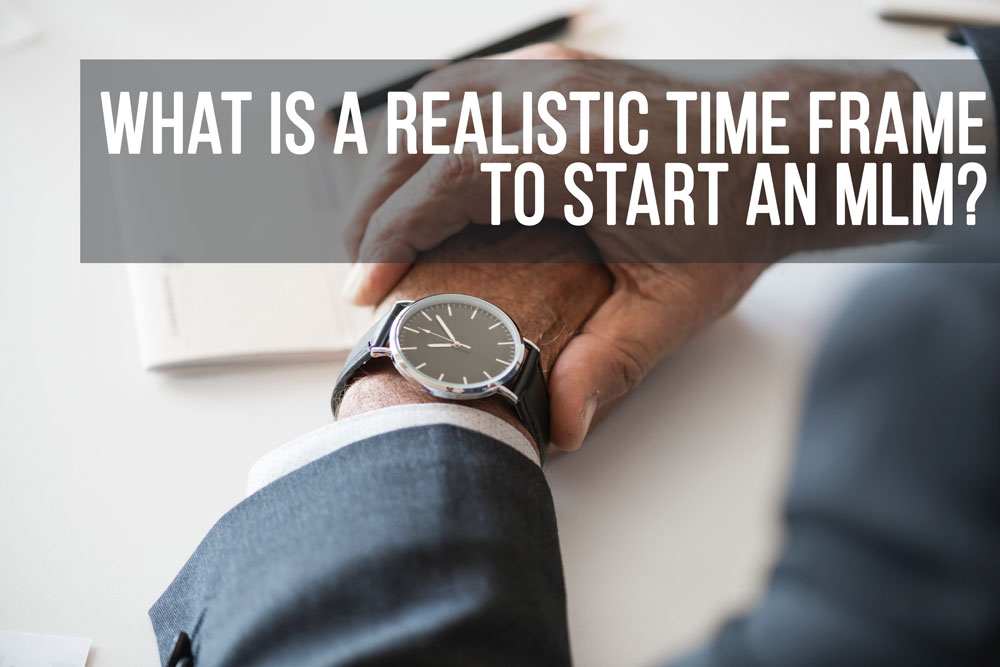 What is a realistic timeframe to start an MLM Company?
You know, we get calls every week from potential MLM companies, people that want to launch a company, that have unrealistic expectations or time frames. They think that they'll be able to get up and running in a day, or started recruiting distributors yesterday and need software and a compensation plan and a merchant account and everything today.
What I want to do is help you manage some realistic expectations.
How Long Will it Take To Launch?!
First thing. How long is it going to take to get your software launched? Realistically, working with a good MLM software provider, they should be able to get the software up and running in 1 day. If you already have a domain, they should be able to attach that domain to your software so you can at least start working on your products, your enrollment options, and everything else in your back office of the software.
The Look and Feel
It should take 5 days to get the "look and feel". You want to give the provider you're working with the logo for your company. If you need a logo designed, there are many good logo designers that can create a logo for you for $100-$300 and will be able to provide you a logo in just a day or two. Then you should be able to get your logo up on your website and your colors matched on your website in a day or two.

You should be able to get your SSL certificate installed on your site within 1 day.
It should take about 10 days for your customer service team or warehouse manager to setup your product and enrollment options. That means go in and put in the pretty pictures, put in the description, put in the pricing… You actually don't need to put in the commission value. Here's a misnomer about the industry; a lot of mlm software companies and consultants say that you need your compensation plan completely finished before your start working on your software. That's completely untrue. You should be able to start setting up your software while you're still working with your compensation plan designer to get that done. You should be able to start running your business without a compensation plan.

It should take you about 15 days to get your enrollment options setup. Once you've setup your products in the system, setting up your enrollment options is just an extension of those products that are already setup.
It should take a 15 days to configure and setup your shipping and sales tax, whether you're work with FedEx or UPS or USPS it doesn't take more than a day or two to sign up for their API's and get their credentials. It doesn't take more than 3-5 days to actually signup with a shipping provider that you're going to be able to configure within the system. The same thing with sales tax; You want to be collecting sales tax on your products for various states and that's something you need to talk to a good sales tax company about.
The Compensation Plan
You compensation is the crux to your company. If you watch another one of my videos about realistic expectations and compensation plans, it should take 30-45 days at most to properly document your compensation plan and get it setup in the software.
Also, 30 days to obtain a merchant account. A lot of people come to us and say, "well, I can't start with the software or the website until I've got a merchant account". Here's the problem, a merchant account provider is not going to give you the ability to take credit cards until you've got a website, your domain, your logo, your terms and conditions, policies and procedures. All these things that a merchant account provider is going to be looking for. You cannot setup your merchant account without first having your website in place.

And it's going to take you about 10 days after that's done to test everything. That's 30 days to get setup, then spending another 10 days spent testing your system. Test everything. Test enrollment options, your back office, your commissions engine, put in some test distributors and customers, run some test orders and commissions and make sure everything is working as expected.
So that's 40 days. Why do I say 30-45 days? The last 5 days should be sitting back going "we've got everything in place, we're ready to do our national sales call, everything's been tested".
So yea, we can launch your software in 1 day, but everything else is going to take you 30-45 days to do. I've launched over a thousand companies and if you think I can help you launch your company, please give me a call or send me an email.