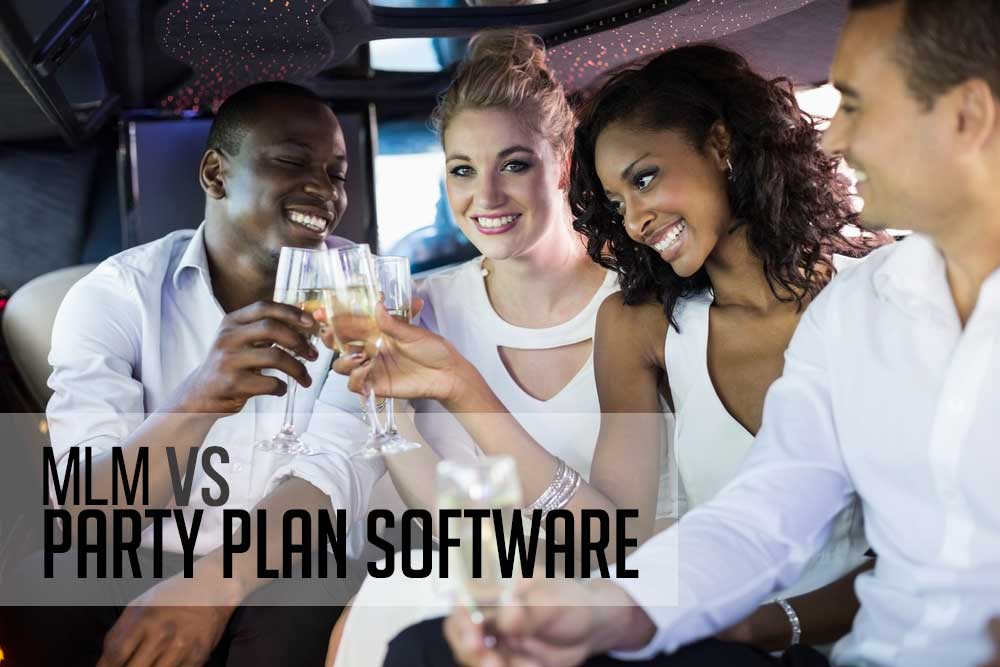 What is the difference between MLM and party plan software? Are the software modules for MLM and party plan similar, or are they significantly different? Is software for MLM also suitable for party plan applications? While there are similarities, there are also significant differences.
First, let's explore the similarities.
Similarities between MLM and party plan software
Over the twenty years we have worked with and launched over a 1,000 MLM companies, we have come across a fair number of party plan companies. Many of these companies do not realize that there are important differences between MLM and party plan software.
What works with MLM software may not be suitable for party plan software and vice versa.
However, on the surface, the backend functionality of both applications looks similar. They both include functions like:
Commission and compensation plans

Replicated websites

Genealogies

Shopping carts

Administrative tools
Differences between party plan and MLM software
The real difference with party plan software centers on how distributors and party hosts can best use the software in ways where MLM software imposes restrictions.
Host or hostess invitations
With party plan software, a distributor should be able to invite a host or hostess to host a party. To do this, the software must include two unique features:
The ability to extend invitations to different hosts, hostesses and party guests.

Distributors must be able to store and retrieve information about hosts and hostesses stored in their backend.

MLM software does not include functions for host management and guest invitations.
Scheduling and calendar systems
Distributors who arrange a hosted party, online, in their home, at a hotel or functions center, must be able to schedule the event, send invitations, and register invitation acceptances for a function at a particular date and time, and at a specified location. The party plan software should also include an invitation plan follow-up system outlining the agenda and reminders of what the party offers that will motivate guests to attend. This can be handled with mobile messaging.
This requirement is unique to party plans software and not included with your typical MLM software. This type of calendar system must be incorporated on the distributor replicated website.
In addition, the party plan software must include an order system for party supplies complete with delivery instructions for food and drink suppliers and other specialized vendors.
Finally, the party plan software must have the ability to reward the invited host or hostess either by product or service discounts, direct payments or other arrangements.
If you get some value in learning the differences between party plan and MLM software, please share it with others who may be interested. You can also call us to find out how either type of software can be modified to suit your requirements. Call us or shoot us an email.