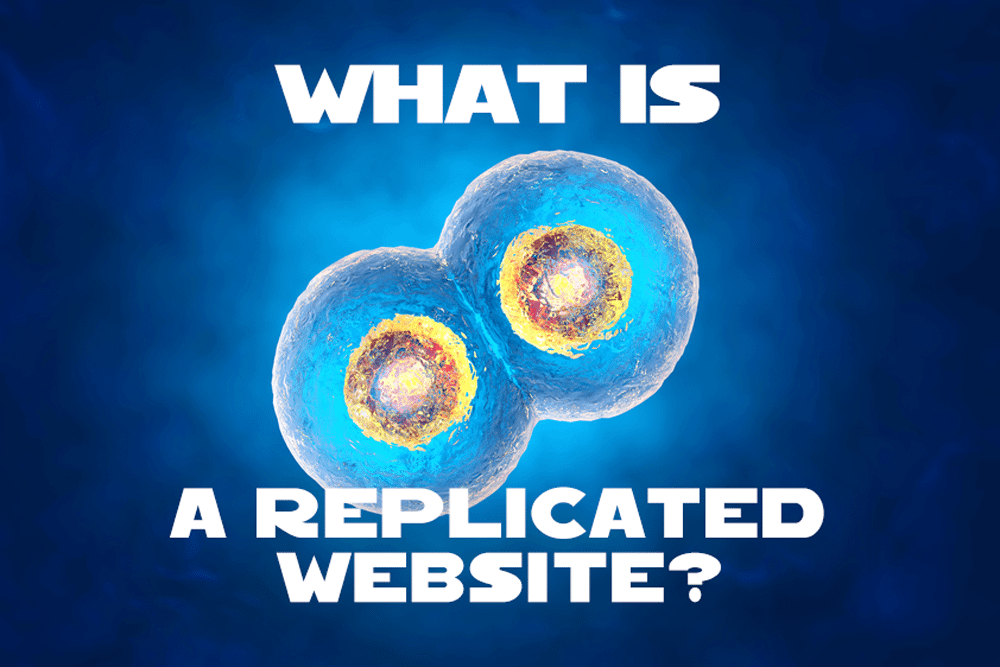 Does the MLM software supplier you want to work with offer a replicated website? What is a replicated website? What is included in a replicated website? Should the MLM software distributor charge for the replicated website?
Yes, the MLM software supplier should provide individual replicated websites for their customers to enable them to conduct their business.
How is a replicated website created and for what purpose?
MLM software suppliers market a software suite that includes software modules, tools, and functions to conduct multi-level marketing as a business.  
Replicated means "to make an exact copy of something". MLM software supplier customers who launch an MLM company get a copy of the supplier website built with a front-end uniquely branded to identify their company. It is the software supplier's site re-branded with the customer's personal information and business profile. The site will have:
Its own domain name (URL).

The MLM company business name, logo, photo, header image, phone numbers, address, biography, social media sharing buttons, monetization, content, and advertising.
Advanced MLM software suppliers offer services included in their online software suite structured as Software as a Service (SaaS) business offering. The supplier hosts the replicated websites but this setup may vary with different MLM software suppliers.
While the front-end and presentation layer in a replicated website is re-branded, the back-end remains unaltered. Any software change in the back-end of the supplier software suite is automatically copied to the replicated site.
MLM distributors access the replicated website of the MLM company for which they work.
What is in the back-end?
Every replicated website can access the back-end of the supplier's software suite, using unique credentials that correspond with their position and role in the MLM company, This is the core part of the MLM software suite where all business transactions and processed are stored.
Based on user roles, permissions are different and give access to different areas of the back-end. MLM company distributors can view information regarding their sales, the company's genealogy and their own downline, commissions etc.  
With distributor enrollments and purchase transactions processed in the backend, it offers access to the following functions:
Company organization

The company genealogy

View  distributors

View distributor downlines

View distributor current ranks

View the amount of money earned in commission

When the money was earned

When a distributor got paid

How they earned the money

If it Unilevel or Binary commission based

How much volume is being carried forward

Process purchase orders using a shopping cart

Set up autoship for products and customers

See promotional materials the company publishes
A replicated website is the way an MLM startup company can launch, fast-track their business, and enroll distributors.
If you got value from this, share it with others. If you need more information about replicated websites, call us now.